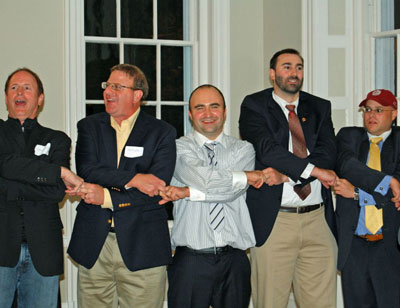 About the Lambda Iota Society
Lambda Iota Society is a local fraternal organization created by a group of 13 undergraduates at the University of Vermont in 1836. We began as secret society, dubbed Phylos Kapnon ("lovers of smoke") in response to, then-UVM President John Wheeler's decision to ban the smoking of tobacco on campus.
Over the years, the society has seen significant changes. Phylos Kapnon became Lorillard Institute and then again, as Greek letter societies came into fashion, we changed our name to Lambda Iota. With this last shift in 1844, the society became a publicly recognized organization, and for more than one hundred and sixty years, the Lambda Iota Society operated as a proud, local representative of UVM's Greek community (the Lambda Iota Society has no affiliation with a national Greek organization). Today, the university itself proudly cites the founding of Phylos Kapnon in 1836 as the beginning of Greek life at UVM. In 2011, the Lambda Iota Society celebrated its 175th Anniversary. The Lambda Iota Society takes the goddess Minerva as its muse and her symbol of the owl as its mascot.
The home of the society is located at 440 Pearl St. in Burlington, Vermont. "The Owl House" or "The Nest"—it is referred to as both, with affection—was built by and for the Lambda Iota Society, and it first opened its doors to undergraduate members in 1913. June of this year (2013) will mark the centennial anniversary of its completion.
Lambda alumni are proud of the society's long and meaningful history. Prominent members of our organization include a Governor of Vermont, John Gregory Smith (1863-1865), and a UVM President, Lyman Rowell (1966-1970).